Starchild Tarot Akashic Edition Review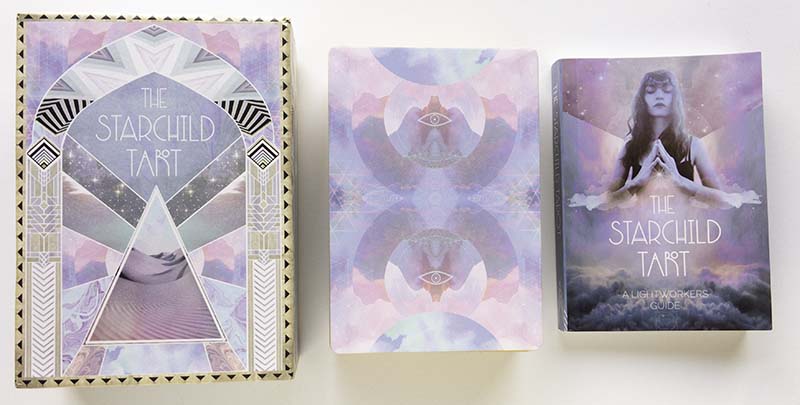 Starchild Tarot Deck: Box, Cards, and Guide
The Starchild Tarot is a contemporary deck from Danielle Noel (Writer and designer). Noel uses digital collage to blend modern figures, otherworldly landscapes, galaxy-aesthetic, and Egyptian imagery.
This is a great deck for intuitive readers. The Starchild Tarot uses mostly a Rider-Waite-Smith system of tarot with a few Thoth elements. Like in the Thoth tarot, the Justice card is number 8 and Strength is 11. The Starchild Tarot reinvents new symbolism and illustrations of the traditional tarot imagery. The aesthetic feels interplanetary with lots of layers of stars, galaxies. There's trippy spirit-quest-in-the-desert vibe too. The background scenery is mostly desert vistas and unusual rock formations -further lending to the planetary feel. The color palette is primarily soft, pastels. Sacred geometry motifs are used throughout the deck.
It's a light and gentle deck. Sometimes it helps to have a tarot deck on hand that won't kick you when you're already down!  You could argue that it glosses over a lot of negative cards. An example would be the Death card reimagined as Transformation. Depending on how you feel about "no scary card" decks, these changes might be welcomed or off-putting. I think the empowering and non-confrontational imagery of this deck would be great for use at parties, fundraisers, and corporate events. Any situation where pulling out a scary Death card for someone while they're sitting around their coworkers (or teenage friends!) might be a little too awkward and intense.
This deck comes in a few versions. The Akashic version that I have has uses a few different cards than the currently out-of-print first edition. There's also a borderless version available. On that note, while I usually love gilded edges on tarot decks, the Starchild Akashic uses a sticky type of rubbery-glittery-paint. It's very hard to shuffle. The cards perpetually stick together. This, plus its thick and oversized cardstock, makes it one of the hardest to shuffling decks that I own. Hopefully a different type of gold edging can be used on future versions.
This is a very positive and empowering deck. If you identify as a lightworker, healer, or high-vibe babe, you'll love the Starchild Tarot. The deck can be purchased directly from the artist's shop.
The Starchild Tarot at-a-Glance
Creators: Danielle Noel (Writer and designer)
Reviewed Edition: Self-published Akashic edition 2016
Number of cards: 79 (bonus card for Major Arcana)
Major Arcana: 23
Minor Arcana: 56
Cardstock: thick, matte with gold edges
Card Size: 3.5" x 5"
Guidebook: 173 pages, b&w
Box: clam-shell
Tarot Traditions and Systems: Rider-Waite-Smith (RWS) with some Thoth influence
Major Arcana Names:
(0) The Starseed (as the The Fool card), (1) The Magician, (2) The High Priestess, (3) The Empress, (4) The Emperor, (5) The Hierophant, (6) The Lovers, (7) The Chariot, (8) Justice, (9) Serenity (as the Hermit card), (10) Wheel of Fortune, (11) Strength, (12) Perspective (as The Hanged Man), (13) Transformation (as Death), (14) Temperance, (15) Oppression (as The Devil), (16) The Tower, (17) The Star, (18) The Moon, (19) The Sun, (20) Awakening (as Judgment), (21) The Universe (as the World), and bonus (22) Akashic Records
Bonus cards: Akashic Records
Minor Arcana Type: illustrative, RWS style
Minor Arcana Suites:
Crystals (as Pentacles)
Cups
Swords
Wands
Court Cards:
Page
Knight
Queen
King
Card Backs: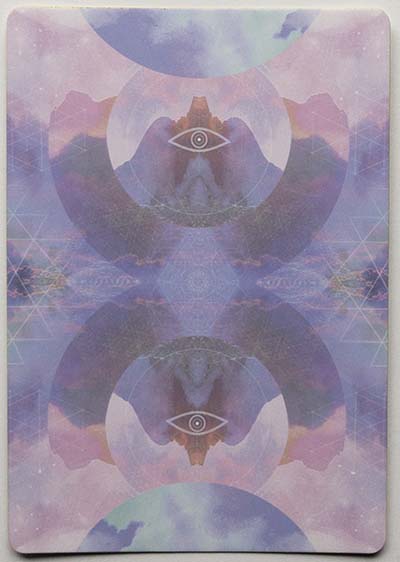 Some of my favorite cards