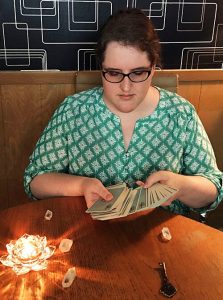 Hey there! I'm Kim. I'm a tarot geek, deck collector, and reader. I love studying psychology, creativity, and healing.
It's an absolute honor to be able to combine these interests and skills into a path that empowers so many people. I'm grateful for the privilege to help shed light on to my client's paths and to empower them along their journeys.
I grew up in rural Texas, before landing in my favorite city: Houston. I love the diversity, culture, food, and arts that you can find in urban areas. I'm a city girl at heart!
I'm currently taking a sojourn away from city life in a log cabin on a lake with my husband and pooch — not too far from the Live Music Capital of the World: Austin, Texas.
When I'm not reading tarot, I'm walking at the lake with my husband and furbaby, watching deer graze in my yard, checking out art exhibitions in the city or cooking up a meal from my farmer's market hauls.
I'm a passionate arts advocate;  I'm proud to share my tarot reading time with working at wonderful fine arts museum. But I'll let you know my secret dream: I want to travel with my family in a vintage camper and explore the United States. How awesome would it be to read tarot, journal, and sketch in a national park?
I'm looking forward to helping you illuminate your path and gain clarity to make empowering decisions. If you need to reach me, please visit my contact page.